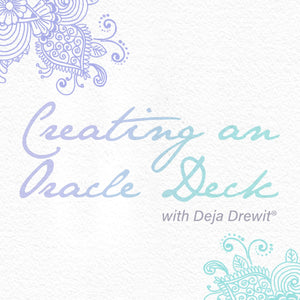 Hello healers and mystics!
If you've stumbled upon this course by mistake, it may just be a sign from the Universe that you have a special message or modality that you need to share with the world through oracle cards.
What are oracle cards?
Oracle cards are a spiritual tool that are becoming more and more popular. Oracle cards offer a way for people to connect with their higher self or communicate with their spirit guides.
I discovered oracle cards back in 2014 when I myself was going through a major Saturn return (aka my life had turned upside down): I was a brand new single mom who just quit my job to care for my son. I was heartbroken, lost and scared.
That was when I discovered oracle card readings. I first began watching them on Youtube and found so much healing in their messages. They gave me hope that things would be ok (they were right!).
The more I used them, the more I felt a calling to create my own. I was an artist with no job so what did I have to lose right?
4 decks later, it's my full-time business today and I am happy to say not only did I never have to return to my 9-5, I also receive so many messages on the healing people receive through my cards.
Oracle cards are very easy to use and come in many sizes and themes. Just shuffle your cards and pull as little as 1 card or as many as you want to receive a guided message. You'd be amazed how synchronistic the messages can be. You can even work with multiple decks at once. 

Oracle cards also helped me strengthen my own intuition. I began feeling or even predicting which cards would pop up while shuffling. 
About the course:
In this course I teach you everything I learned from creating 4 oracle decks and working with 3 different printers. I share mistakes and challenges to avoid and how to make a deck that provides value for your target customer.
I get so many questions about creating an oracle deck that I've decided to create a course to teach you everything that I know or have learned from making 3 decks (and finishing my fourth)

I've decided to create my own course to share my perspective and personal experience with those who have decided to choose me as their oracle deck teacher.



Who this course is for:

Artists / Graphic designers who want to create their own oracle deck

Coaches, healers, authors who have an idea and want to make an oracle deck and plan on hiring an artist.

Anyone who plans on creating and selling/distributing an oracle deck or any deck of cards

Anyone who already has an idea for an oracle deck
Who this course is NOT for:

Who wants to learn how to draw or how to use software like Adobe Illustrator, InDesign or Photoshop.
Things I will cover:
My creative process start to finish

How to find an artist or how you can find and work with an artist (I have personally not done this but I can share with you best practices)

How to hire a graphic designer to do your packaging or if you are a graphic designer, I have tips for you. 

Challenges you can expect during production and how to avoid or overcome them


How to find a printer and working with a printer
Things I will NOT cover:
How to draw or be an artist. This is not an art class. So please either take an art class elsewhere or hire an artist. Thank you!

How to use Photoshop, Illustrator or InDesign. I recommend you either hire a graphic designer to help you or search online tutorials for specific help, which is what I did to help me with Indesign because I haven't used it in over 10 years. 

Although I give you basic idea on how to come up with an idea for your deck, it best if you already have an idea before taking this course.
 Details

:
The course is pre-recorded and not LIVE. You can watch it anytime

It includes 3 main modules and a total of 2.5 hours

Any questions that don't get answered in the course, will get added on to a Q&A section in the future
IMPORTANT: Please use a correct email during checkout in order to receive your welcome email after purchase with a link and instructions to access your course. 
*This course is non-refundable*
If you have any questions, feel free to contact me deja@dejadrewit.com 
Outstanding
The course was very detailed and contained a lot of useful information. I am appreciative for the time and effort taken to create this course. I also feel that adding an additional Q&A portion later on based on feedback was extremely thoughtful. It not only reflects the utmost professionalism but also how committed Deja is to ensuring her customers are heard and any questions addressed. I would highly recommend this course to others interested in creating their own oracle deck.